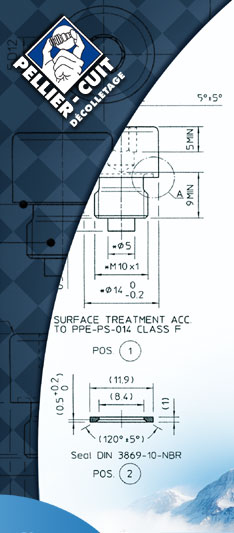 OUR ACTIVITY

For many years PELLIER-CUIT Company, located in Haute-Savoie (F-74), has remained a strong player in the field of precision engineering.
Our know-how, our flexibility, and constantly updated machinery allow us to satisfy national as well as international customers.
OUR HISTORY The company was created in 1949 in Mont-Saxonnex (F 74) by Fernand PELLIER- CUIT and developed by his sons Georges, Michel and Roger.
They acquired premises in Cluses in 1992 (2500m²).
Since 2005 the company has been managed by the grandsons Sébastien and Stéphane and employs 38 workers.
In 2011, the company bought a new building of 4500 m2 located in Marignier.


HIGH PRECISION PARTS

A good understanding of the manufacturing processes as well as state of the art production methods allow us to satisfy all your expectations and demands.
Our certification ISO 9001 together with our innovative and high performance control technology guarantee our customers optimum quality.

IN THE HEART OF EUROPE

PELLIER-CUIT SAS is located in the Arve Valley, the home of precision engineering in Europe, where precision and know-how are part of the way of life.
The proximity of Geneva and the Mont-Blanc Tunnel reinforce the favourable geographical location.

70 % of PELLIER-CUIT SAS turnover stems from exports in the European markets.
Our know-how is relevant to numerous sectors of industries such as automotive, household electrical appliances, hydraulics industries.